Selection of Publications
---
Trujillo JR, Navia BA, Worth J, Lucey DR, McLane MF, Lee TH, Essex M.
J Acquir Immune Defic Syndr Hum Retrovirol. 1996 May 1;12(1):19-25. doi: 10.1097/00042560-199605010-00003
---
Trujillo JR, Wang WK, Lee TH, Essex M.
Virology. 1996 Mar 15;217(2):613-7. doi: 10.1006/viro.1996.0158.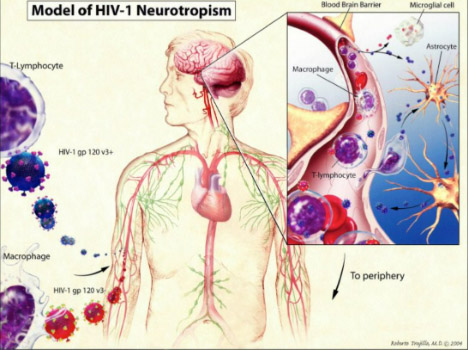 Neuropathogenesis of HIV-1 Infection Microglia infection by HIV has been pathologically associated with "HIV encephalitis". Neurons and astrocytes infection by HIV has been associated with "HIV encephalopathy". The HIV T tropic phenotype is responsible for astrocyte/neuron infection in absence of CD4 receptor and some cases the presence of CXCR4.
---
Trujillo JR, Garcìa-Ramos G, Novak IS, Rivera VM, Huerta E, Essex M.
J Acquir Immune Defic Syndr Hum Retrovirol. 1995 Jan 1;8(1):23-9.
---
Trujillo JR
Thesis (Doctor of Science)–Harvard School of Public Health, 1995
---
Trujillo JR, Navia B, McLane MF, Worth J, Lee TH, Essex M.
M. J AIDS, 1994, 7:103-108
---
Trujillo JR, McLane MF, Lee TH, Essex M.
J Virol. 1993 Dec;67(12):7711-5. doi: 10.1128/JVI.67.12.7711-7715.1993.
Molecular mimicry Immunologically cross-reactive proteins in the human brain that resemble the V3 loop of HIV GP120 have been identified. An immune response to the V3 loop that generates cross-reactive antibodies to cellular proteins may be an autoimmune mechanism by which HIV can damage the central nervous system
---
Gildenberg PL, Langford L, Kim JH, Trujillo JR.
Acta Neurochir Suppl (Wien). 1993;58:68-70. doi: 10.1007/978-3-7091-9297-9_15.
---
Trujillo EB, Borlase BC, Bell SJ, Guenther KJ, Swails W, Queen PM, Trujillo JR.
J Am Diet Assoc. 1992 Apr;92(4):477-8.
---
I.S. Novak, Trujillo JR, Rivera VM.
Neurology 1989 Jan 39:379-380
---